The Client
Vow limited, founded in 2020, is a blockchain startup offering B2C, B2B, and B2G solutions. Vow's crypto wallet project serves as a secure, transparent, and cost-effective medium through which individuals and organizations can distribute help to others. It aims to act as a bridge to globalize the acceptance of cryptocurrency.  Vow use blockchain technology to distribute financial resources for businesses, individual investors, users, and local communities globally.
The Business Requirement
Even though the cryptocurrency industry has grown far since its birth a decade ago, several problems still hinder its widespread adoption. Vow identified the need for an effective and efficient liquidity bridge between cryptocurrencies and merchants to help cryptocurrencies go mainstream. Vow also identified several issues with the current centralized financial systems, such as the unpredictability of currency values and the lack of stable resources to back them. Additionally, the influx of retail and institutional investors is causing high volatility in the crypto market, making cryptocurrencies less dependable for commerce.
Vow wanted to solve this problem by launching a solution that accelerates the acceptance of cryptocurrency and stablecoins. For this, Vow wants to launch a cryptocurrency that doesn't fake crypto acceptance by merchants by automatically converting crypto to fiat using a prepaid card or a crypto-to-fiat gateway. The business requirement is to build an ecosystem of crypto tools and platforms, including crypto tokens, crypto wallets, crypto launchpads, swapping tools, and more.
The Project : Vow Crypto Wallet
The client reached out to Accubits to build the Vow ecosystem. In the project's first phase, we developed Vow's native cryptocurrency and a crypto wallet via our blockchain development services.
Vcurrency
The cryptocurrency is denoted as Vcurrency or $v. Vcurrencies are ERC777-compliant digital assets minted on the Ethereum blockchain. The currency model we developed delivers the utilities, including transferring money in a trustless system and collectively creating value. Businesses on the Vow network fix the unit value of the currency by backing it against their specific goods and services. We developed the Vow Vcurrency based on a circulating supply model. When an individual investor or a user purchases a Vow, they can burn it to get Vcurrency worth the same value. Vcurrency can then be sold for fiat or cryptocurrencies, sent to others with a Vow wallet, or spent at a business in the Vow ecosystem. Vcurrency is currently listed on many crypto exchanges.

Vow Crypto Wallet
Vow is a decentralized wallet application that allows users to securely store, send, swap, and spend their Vow currencies. As the official wallet app of the Vow community, it offers full DEX support and the knowledge that all crypto assets are held with keys. The wallet supports BTC, ETH, VOW, and all Vow currencies. The wallet will also be integrated with DEX and direct Visa card purchasing facilities.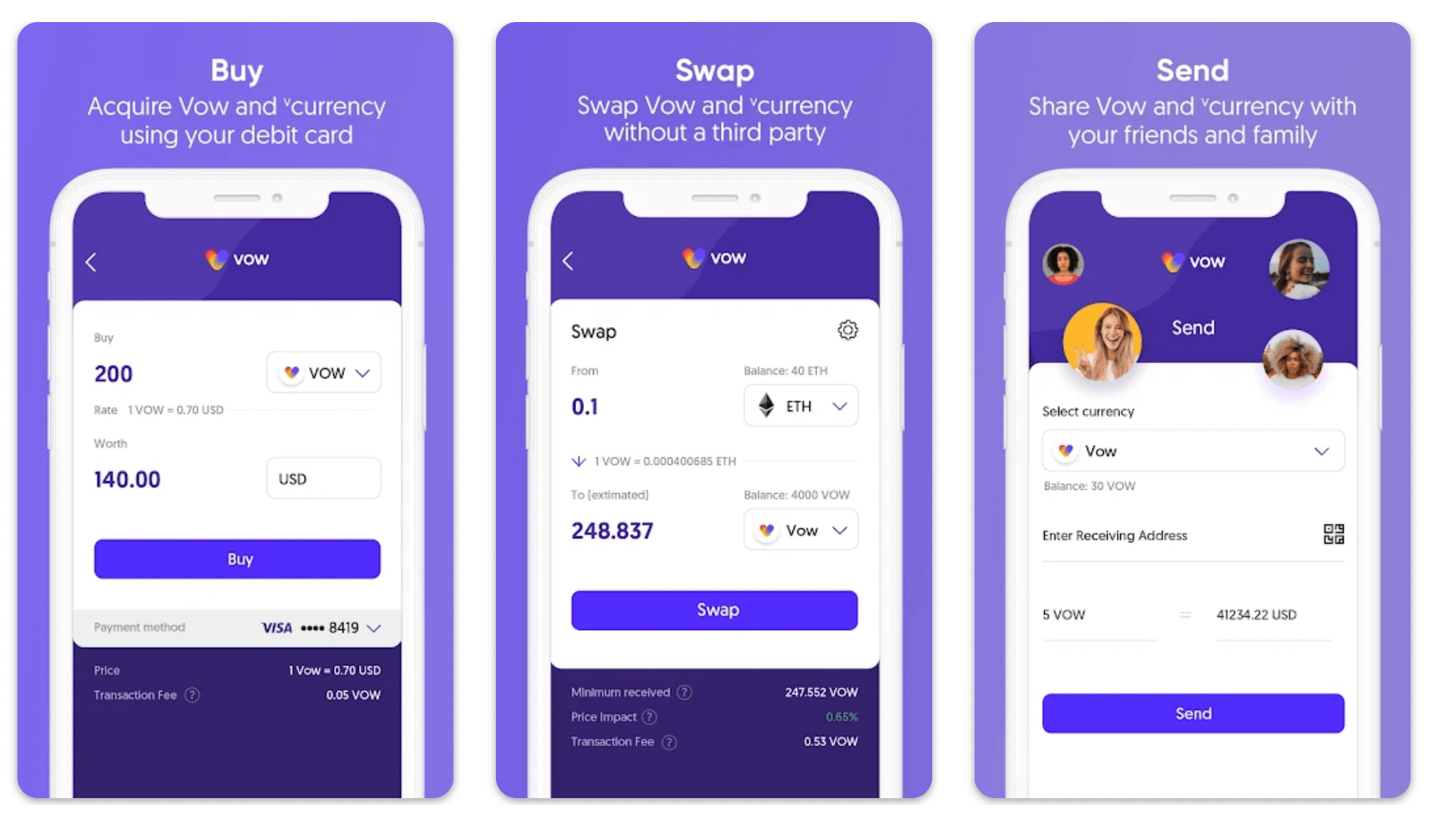 Why Accubits?
With deep expertise in crypto wallet project development and token development solutions for various enterprises, Accubits was an obvious choice for Vow. Accubits is a trusted name for governments and enterprises across the globe, and Vow was confident that they were achieving enterprise-grade quality, security, and availability with their crypto-tokenomic ecosystem. Accubits' can support not only the initial platform development but also the ongoing deployment of new features and management of the platform. This has provided Vow with dedicated teams that grow with their business needs and provide all major enterprise systems development and management functions.
The Outcome
With an agile methodology of product delivery, Accubits developed and launched an optimum functioning crypto wallet project, a native token with carefully calculated tokenomics that's accessible and understandable by every project owner and investor. Phase one of the project was successfully completed. Vcurrency is currently listed in 15+ crypto exchanges, and Vow wallet is published in both the Google play store and Apple app store. 
Ready For Your Own Success Story?
Reach out to us today to discuss your project and avail a free a no-obligation consultation