In the fourth episode of The North Tech webinar series, we are discussing the opportunities and challenges in launching an NFT business.
The recent updates in the NFT domain are quite surprising. NFT tokens are being sold for millions. Entrepreneurs worldwide and prospecting the NFT domain, to launch new businesses and invent new business models on top of NFT infrastructure. There are a wide variety of use cases for NFTs. These applications keep growing as time progresses and innovators are constantly finding new ways to utilize these tokens.
So what exactly is an NFT?
How does it work? Or How can I create one?
How can I get started with an NFT business?
Is it a bubble that's about burst?
How can I launch an NFT Marketplace?
What are the legal requirements for launching an NFT business?
Are you having any of these questions in mind? Join our webinar for an insightful discussion on these topics.
Date: 27 April 2020, Time: 7.20 PM ( CET / GMT+2) :  REGISTER NOW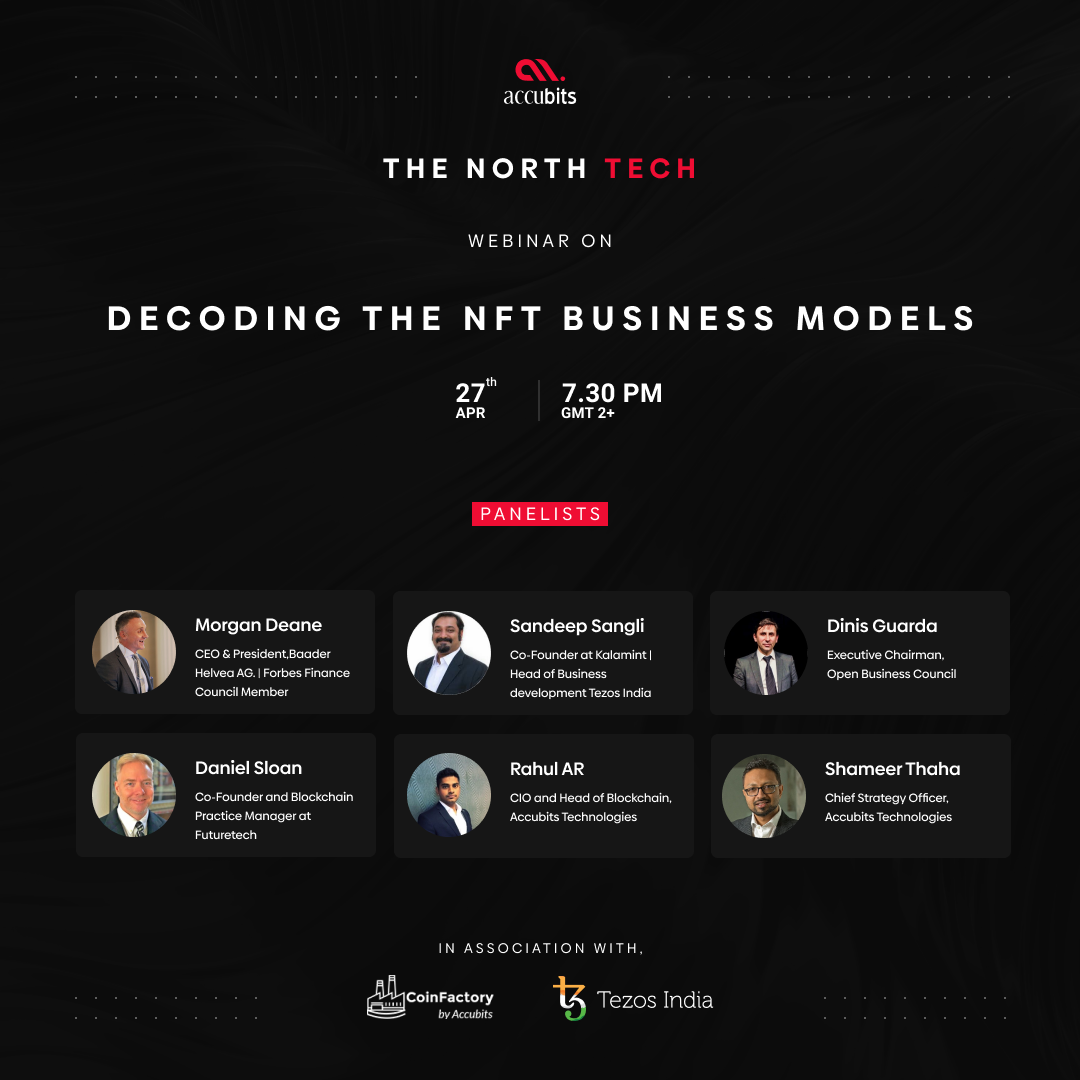 Our expert panelists include;
Morgan Deane – CEO & President, Baader Helvea AG. Forbes Finance Council Member
Sandeep Sangli – Co-Founder at Kalamint, Head of Business development Tezos India
Daniel Sloan – Co-Founder and Blockchain Practice Manager at Futuretech
Rahul AR – CIO and Head of Blockchain, Accubits Technologies
Shameer Thaha – Chief Strategy Officer, Accubits Technologies
Dinis Guarda – Executive Chairman, Open Business Council
A peek into the previous episodes
The North Tech: Webinar on Smart Cities, Emerging Tech and the Pandemic

Webinar: Robotic Process Automation, Opportunities & Challenges in Oil & Gas Sector