In the second episode of The North Tech webinar series, we are discussing Robotic Process Automation technology, its opportunities, and challenges in the Oil and Gas Sector.
According to the International Energy Agency, the global energy demand will fall 6% in 2020 – seven times the decline after the 2008 global financial crisis. The year 2020 brought great challenges to oil and gas companies, setting the ground for even challenging 2021. To remain competitive and emerge stronger in the wake of the pandemic, oil and gas organizations need to discover newer paths for optimal operational efficiency.
Robotic Process Automation (RPA) technology is well known for its ability to enable machines to mimic human actions to automate tasks. Its ability to accurately execute tasks faster opens up a wide range of opportunities for organizations to streamline their operations and achieve greater operational efficiency. In this webinar, we'll discuss the opportunities RPA can open up for oil and gas organizations, the challenges involved in RPA adoption in the O&G sector, implementation case studies, trends, and ideas.
Date: 04 November 2020, Time: 6 PM ( GMT+4) :  REGISTER NOW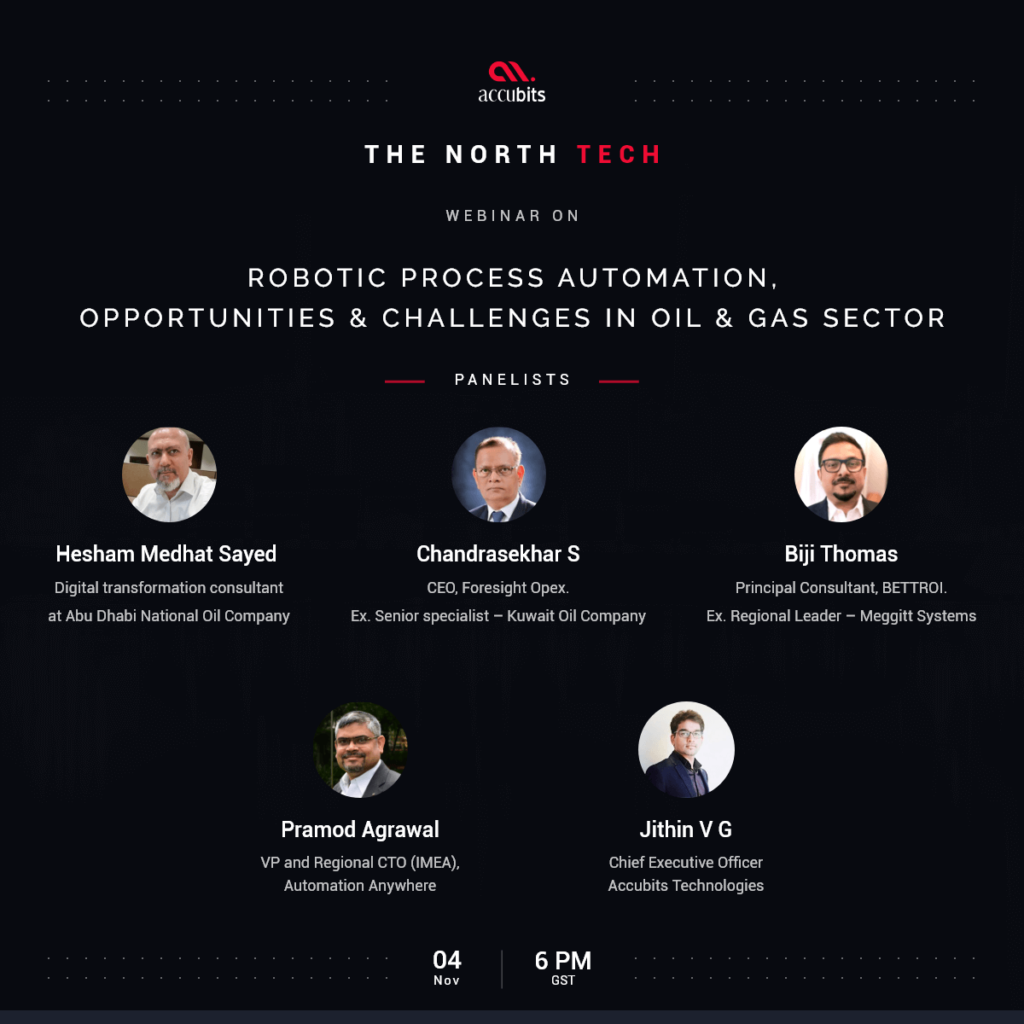 Panelists
Mr. Hesham Medhat Sayed – Digital transformation consultant at Abu Dhabi National Oil Company
Mr. Biji Thomas -Principal Consultant, BETTROI. Ex. Regional Leader – Meggitt Sensing Systems
Mr. Chandrasekhar S – CEO, Foresight Opex. Ex. Senior specialist – Kuwait Oil Company
Mr. Pramod Agrawal – VP and Regional CTO (IMEA), Automation Anywhere
Mr. Jithin VG – CEO, Accubits Technologies
Date: 04 November 2020, Time: 6 PM ( GMT+4) REGISTER NOW