FACE MASK DETECTION SYSTEM USING
ARTIFICIAL INTELLIGENCE (AI)
Face mask detection system make use of the capabilities of computer vision and video analytics to identify and track people who aren't wearing face masks.

Learn More
Face mask detection system using transformative AI technologies
As we slowly ease back into our daily routines, it is important to take precautionary measures to curb the spread of infection. We live in the age of social distancing, and many businesses don't know how to adapt to it. Wearing a face mask is now mandatory in most countries. But there is no way to ensure that people do. We have developed a face mask detection system that can help businesses and governments detect people who aren't wearing masks. Notifications will be sent out to the concerned authorities so that corrective action can be taken. This can help us create a safer atmosphere in public areas like airports, offices and hospitals.
Features of Face Mask Detection System
Face Mask Detection, Key Components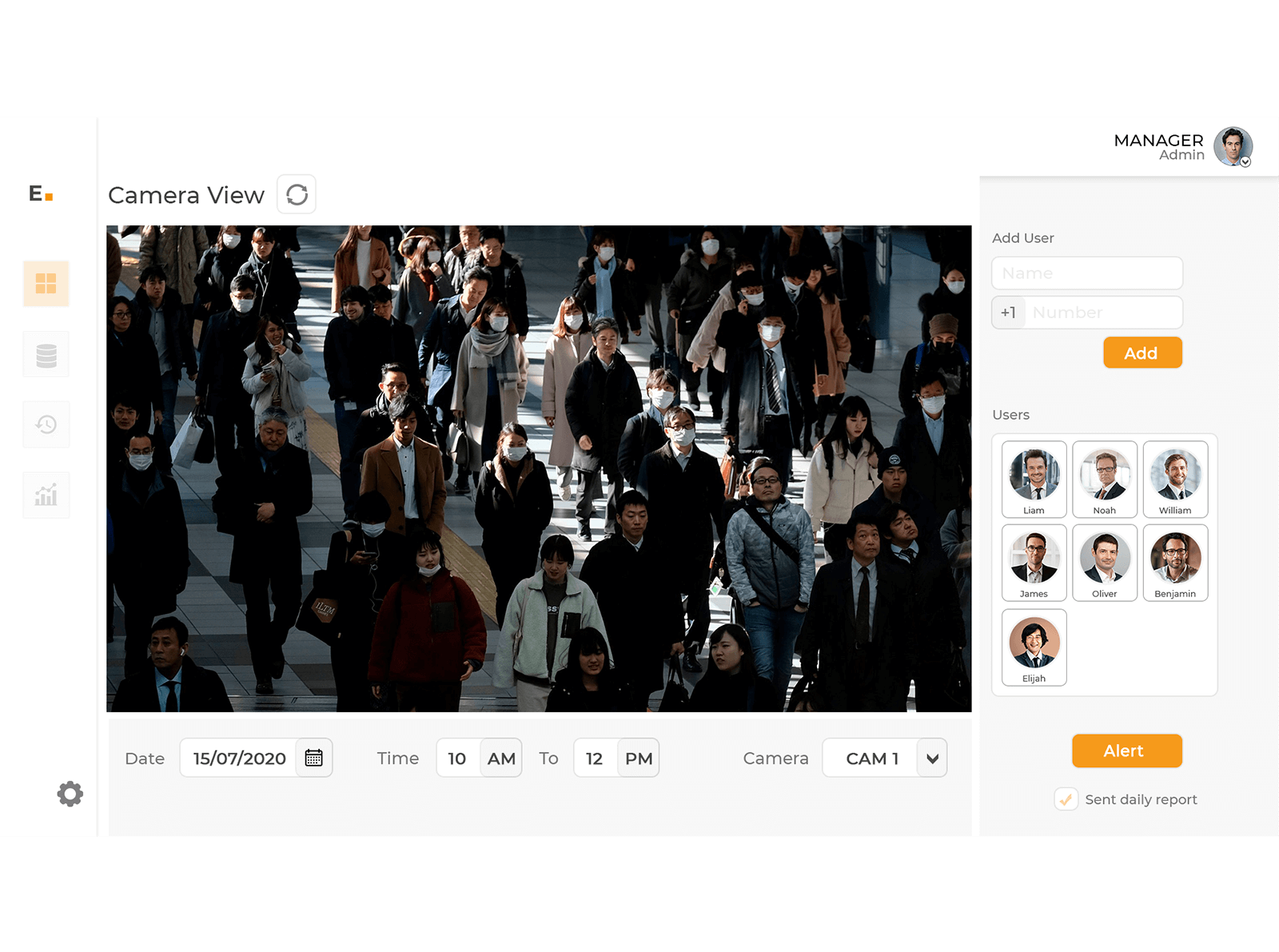 FACIAL INFORMATION
Data Interface
The face mask detection system identifies people without personal protective equipment like face masks, face covering equipments through real-time video analytics. The system's interface can store information on previously identified faces, phone numbers and e-mail addresses. This information can be used to send people alerts if they forget to wear a mask. On identification of a new face, alerts can be sent out to the concerned authorities. Would like to know more about the solution? Lets talk!

INTERACTIVE
Surveillance Dashboard
The system provides a dashboard that shows the statistics of face mask violations identified, alerts generated etc. The system automatically notifies the concerned security officer to take defined actions upon detection of violations.

Contact Us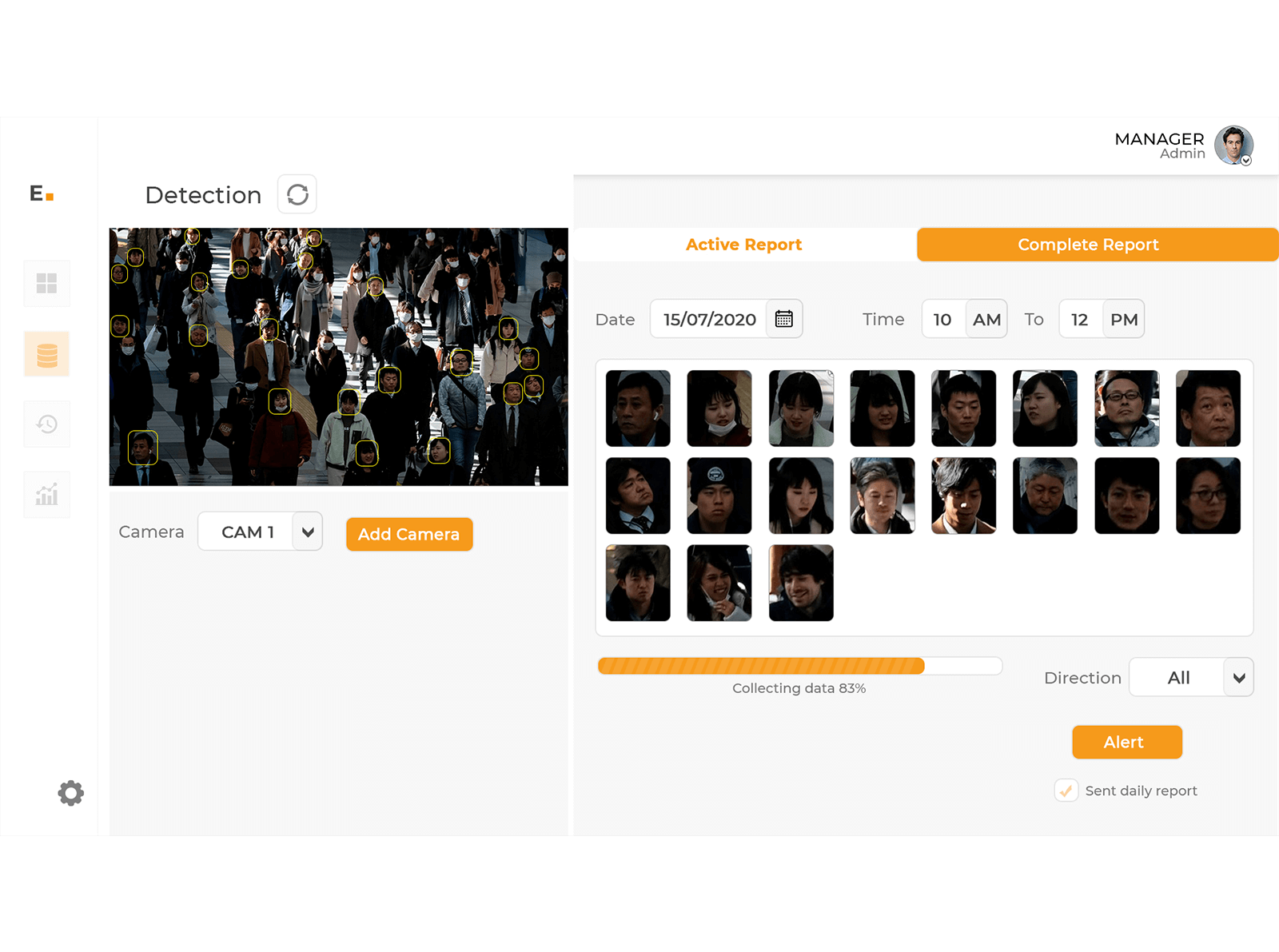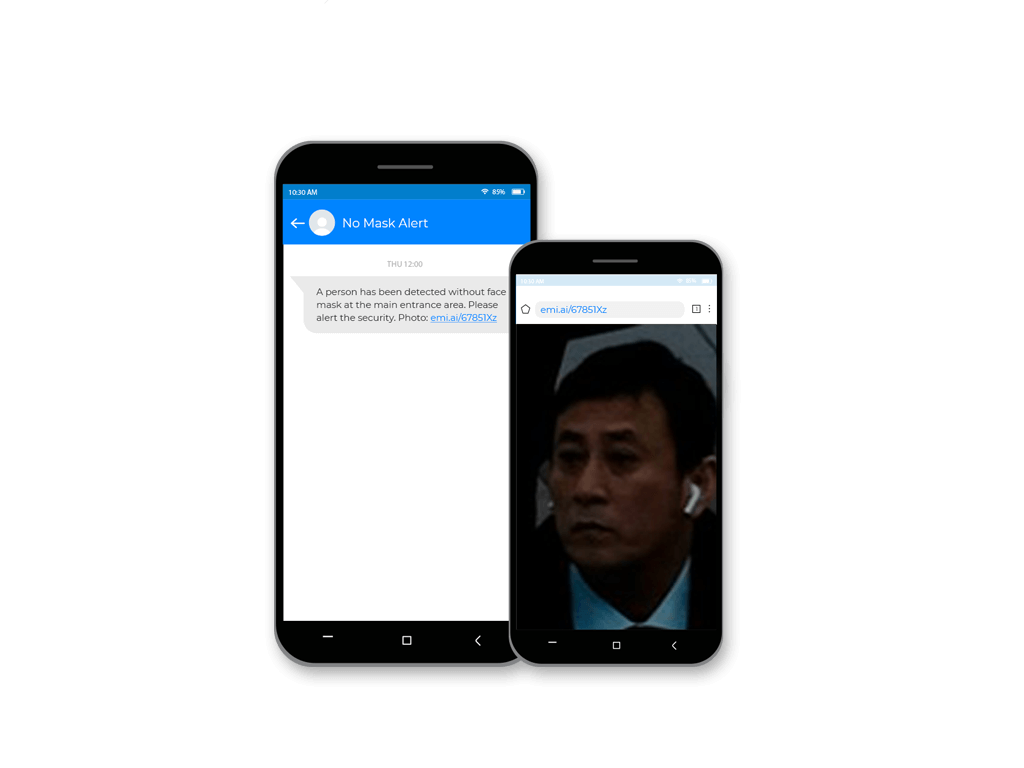 REAL-TIME
Notification Interface
A mobile application can be used to receive alerts whenever the system detects anyone who isn't wearing a facemask. Notifications can be programmed to pop up on the surveillance dashboard in real time as well.

WORK SAFE & SMARTER
Be More Resilient To Changing Economy
Schedule a consultation with our experts to helps us guide your business through these uncertain times.

Work With Us
Transforming Industries with Innovative Technological Capabilities
Ensuring a safe environment is a top priority for businesses, organizations and governments all over the world. We help them ensure that standard safety practices are followed with our detection system.
Prevent the spread of COVID-19 with our innovative digital solutions
In this whitepaper, know how to enforce social distancing measures using COVID-19 monitoring solutions to create a safer and better living environment.
Why Work With Us?
Being a company that focuses on emerging technologies, Accubits makes it a point to build solutions that can adapt to the changing times. As the need for social distancing becomes more prevalent, we have recognized the need for a system that can help organizations, governments and businesses enforce standard safety practices. Our solution harnesses the power of AI and computer vision to identify individuals who aren't wearing personal protective equipment. By allowing property owners to stay vigilant, this system can help create safer spaces for the community.
How to flatten the COVID-19 exposure curve & keep the economy running?
As COVID-19 infected cases continues to rise, the need for a reliable COVID-19 monitoring solution has become a top-most priority to keep the economy safe.
FAQ's
We have been a front-runner in the area of software development for years. Our experts are always looking for ways to develop solutions that can adapt to the changing times. With the advent of social distancing requirements, we have started working on ideas that can help create a safer environment for the community.
Face mask detection system uses artificial intelligence and computer vision to detect people who aren't wearing face masks. It provides real-time insights and generates alerts to the concerned authorities, so that corrective action can be taken. Every individual is assigned a status of either 'wearing a mask' or flagged as 'not wearing a mask'.
WHITEPAPERS,
CASE STUDIES,
RESOURCES
Take a look at a few white papers, research reports and resources to get an insights on the transformations in the industry brought by emerging technology like AI. Artificial intelligence is being widely adopted to help organizations boost revenue generation, enhance customer experience, simplify business operations, provide intelligent insights etc. From chatbots to computer vision, AI in various shapes and forms is improving the performance of industries all around the globe.
Take a look at how emerging technologies like AI are making an impact on various industries. The world of business is in a constant state of evolution. In such a scenario, staying updated on the latest technology can be a challenge for many businesses. As competitors introduce innovative solutions that improve their business operations, it is important to keep up with them. The late adoption of technology like AI and blockchain can drive a serious rift between the well performing businesses and the struggling ones.