Accubits Technologies is recognized by Insights Success Magazine as one of the fastest-growing blockchain companies in India. The recognition is based on the company's expertise in custom blockchain development and products.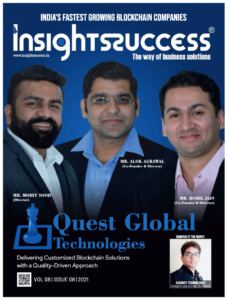 Accubits' product – CoinFactory is a suite of platforms that includes ICO/STO token issuance platform, Whitelabel crypto exchange platform, Whitelabel NFT marketplace platform, and white-label crypto wallet application. Coinfactory has successfully launched more than 50 ICOs/STOs. Several crypto exchanges use Coinfactory's white label exchange platform. Several NFT marketplaces use Coinfactory's white label exchange platform and several crypto wallet apps use Coinfactory's Whitelabel crypto wallet application. CoinFactory helped Accubits to provide end-to-end support for entrepreneurs who want to launch blockchain-based projects. Accubits is able to support them from token-issuance to DApp development.
Accucerts is another product, which is a blockchain-based certification platform offering digital traceability of the certification process for reliable and authentic certifications. It enables academic, as well as corporate organizations to boost their credibility by issuing certificates that cannot be forged. Certifications powered by Accucerts are registered on a blockchain, cryptographically signed, tamper-proof, and shareable.
Insights Success Magazine aims to be a thorough guide to all the diverse challenges of businesses. The magazine is one of the best mediums, which molds itself according to the reader's choice every single month.  It aims is to create the best platform for top leaders and executives to talk and share their experiences, views, and mantra of success which will help the upcoming young and dynamic bloodline of professionals to learn, cater and deliver business needs for customers in order to become futuristic market leaders.