For centuries, human beings have used Polaris – 'the north star' to navigate better and explore the world. Inspired by this, we are launching a webinar series —The North Tech. The idea behind each webinar in the series is to discuss about technologies, innovations and explore its impact on navigating us to a better world. The first webinar in this series: Smart Cities, Emerging Tech and the Pandemic
With every innovation, humanity becomes closer to achieving its true potential. The COVID-19 pandemic has created several opportunities for such new ideas and emerging technologies. From automated contact tracing applications to accelerated drug discovery with AI, technology has helped us a great deal during the testing times of COVID-19. But what happens after?
No one really knows what the post-pandemic world will look like. New technology like Artificial Intelligence, IoT, and Blockchain can possibly transform our lives and help us build a better future. Can we achieve the goals of our smart city initiatives? How can technology help us drive change? Join us for an insightful webinar on 'Smart Cities, Emerging Tech, and the Pandemic', where we will explore the answers to these questions.
Date: 23 September 2020, Time: 2 pm ( GMT+10) REGISTER NOW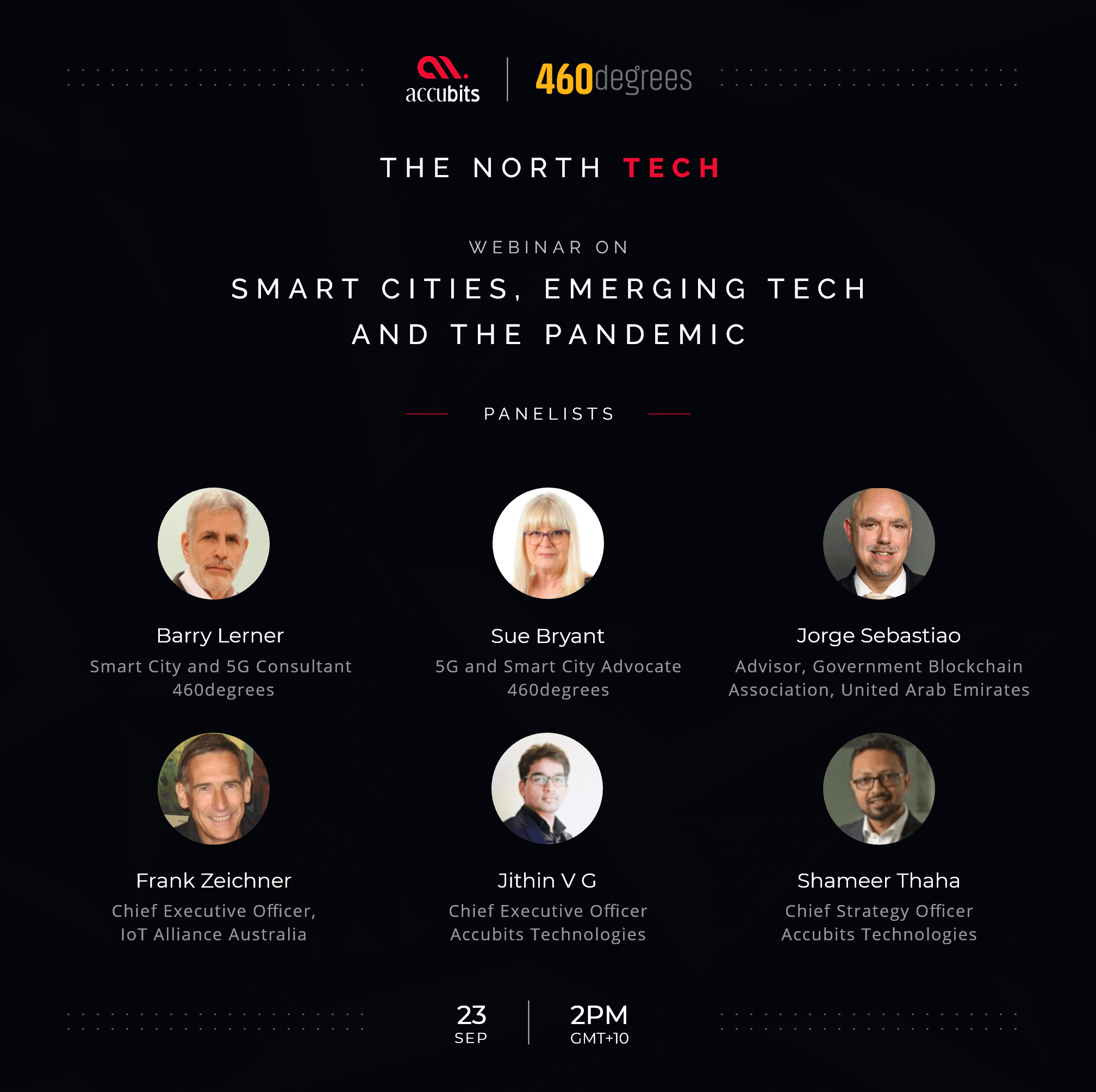 Our expert panelists include;
Jithin VG– Chief Executive Officer (Accubits Technologies)
Sue Bryant– 5G and Smart City Advocate (460degrees)
Shameer Thaha– Chief Strategy Officer (Accubits Technologies)
Barry Lerner– Smart City and 5G Consultant (460degrees)
Frank Zeichner – Chief Executive Officer (IoT Alliance Australia)
Jorge Sebastiao– Advisor, Government Blockchain Association, UAE
WEBINAR REGISTRATION : https://www.eventbrite.com/e/the-north-tech-webinar-on-pandemic-and-its-influence-on-smart-cities-and-tickets-120360903703