Solana NFT Marketplace Development Company?
Your search for a reliable and experienced Solana NFT marketplace development company ends here! Need help to build an NFT marketplace using Solana? Reach out to us today to get a free consultation on your NFT requirement!
View Services
Get an Estimate for your
NFT Marketplace?
Solana NFT Marketplace Development Services
Are you looking to launch a Solana NFT marketplace yourself? We'll help you develop an NFT marketplace with the best user experience. We offer you our Whitelabel NFT marketplace solution on the Solana network to cover all your requirements at an affordable rate.
Marketplace Design
We design the NFT marketplace navigation and its user interface to provide the best user experience.
Marketplace Development
Our expertise in NFT marketplace development helps you integrate the best technical add ons and features.
Tokenization
Our high customization freedom enables smooth tokenization of both collectibles and digital assets.
Wallet Development
We build smart wallets that grant you access to NFTs and can exchange NFTs across a blockchain network.
24/7 Support
We offer 24/7 support so that you can relax and let your NFT marketplace run on its own without any bugs.
Maintainance
We maintain, monitor and manage updates regularly to ensure smooth functioning of the NFT marketplace.
Solana NFT Marketplace Development
Ready to discuss your Solana NFT marketplace requirements?
Reach out to us today to get started.
Solana NFT Marketplace Offerings
We're stretching our hands out to assist you to build your Solana NFT Marketplace. Following are the core features our NFT marketplace offers you.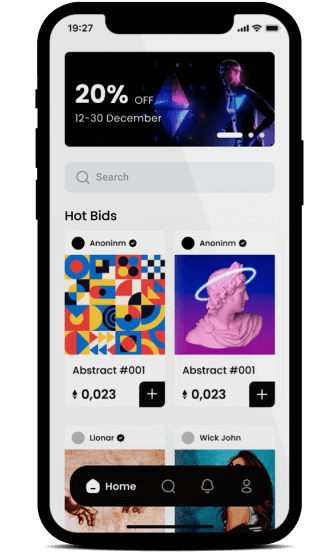 Storefront
Get all the information you need in one place. Such as preview history, bids, etc.

Filter
Fetch all collectibles that match your specific needs using matrices like category, payment methods, etc.

Create Listings
Create all your listings easily with the collectible creation page by filling in the token details like name, tags, description, etc.

Listings Status
Properly track the listing status of all NFTs to make purchasing of NFTs hassle-free.

Auction & Rating
In-built auction and rating mechanism makes the buying more efficient and easy-to-use for bidders.

Wallet
Our connected wallet helps you store, collect, receive, and send NFTs and other crypto tokens with relative ease.
Solana NFT Marketplace Development
NEED A CONSULTATION?
Planning to start your Solano NFT marketplace but don't know where to start? Contact us and we'll help you with all your queries about developing an NFT marketplace.
Contact Us
Benefits Of Choosing Solana
To fulfill your NFT needs, we provide our Solana blockchain expertise across all major blockchain platforms. Following are some of the benefits of the Solana blockchain network that can help you build the best NFT marketplace.
Scalable
To increase the scalability of the blockchain network Solana uses Proof of History and other blockchain-based innovations.
Low Cost
Fees tend to fluctuate with the user base but Solana blockchain is designed to keep it low no matter what.
Composable
The composability between projects is guaranteed by Solana. For that reason it never deals with multiple shards or layer 2 systems.
High Speed
Being the fastest blockchain platform available right now, Solana can process up to 50,000 transactions per second.
Delegated Staking
Delegations between people with SOL tokens on the network are easier as Solana blockchain runs on Proof-of-Stake (POS) network.
Censorship Resistant
All transactions both inside and outside the network are made secure as the blockchain network has an inbuilt censorship-resistant feature.
Secure
The security of the network transaction and decentralization are not compromised even though the network is globally distributed.
Decentralized Nature
The decentralized open-source blockchain infrastructure of Solana makes it compatible with global adoption.
High Performance Network
Say farewell to trade-offs because Solana is designed for high performance and speed in the network.
How May We Help You?
Choose an option that fits best with your Solana NFT marketplace development requirements.
Hire Developers
Get Solana Dev Rate Cards
Get Solana Developer profiles
Remote/On-site Development
Full Project Development
Project Consultation
End-to-End Development
Deployment and Support
Hire Dedicated Team
Choose your Team
Remote Managed Teams
Extented Remote Teams
What Our Clients Say
Our customers loved working with us.
"Accubits' platform has garnered thousands of users and become a trusted tool for business transactions. Flexible, and responsive, they managed the project well and had no issues with language barriers or deadlines."

Elizabeth Priestman
CEO, International Deal Gateway
"Accubits brought their full experience in this project and was able to improve the ideas we came up with by far. These changes were substantial and did allow us to work with more then one group at the same time."

Milivoje Batista
Founder, ATROMG8
"Handling unexpected marketplace requirements, Accubits proactively offered suggestions. Their ability to deliver custom solutions within budgetary and timeline restrictions is notable."

Jon Ratliff
Founder & President, eBlaze Marketing Inc
Solana NFT Marketplace Development
Got your NFT marketplace requirements lined up
Reach out to us today to get started.
Contact Us
You are just one step away from making the right decision.
Let's get started, shall we?
Customer care :
+1 703 337 3121
Office Address :
8230 Boone Blvd, Vienna,
Virginia 22182, United States